Archive for category Professional Development
Our NY Stated accountability scores in ELA and Math were published this summer.  I can't say I am proud of the scores, but I can say, that I am proud of what my teachers and students did to get to where we are now as a school.  Basically, I think our school followed the state norms, raised our scores in Math, but stayed static in ELA.  I am thankful that we didn't go down in our ELA scores at the 3-5 level.  As a district, we didn't fair too well in our 3-8 test scores with proficiency.  But, my question is, what does it mean?  Is it that our kids can't read?  Does it mean that they can't test as 3rd, 4th and 5th graders?  Are we not "test prepping" enough?  We follow the curriculum, we revamped our teaching style and we use data to drive instruction, but even still, in NY State, we do not grow in our ELA proficiency scores.  Hmm….
As a building principal, as I maneuver through the educational reform agenda and lead my staff, I question why we are placing so much emphasis on accountability rather than creating capacity and professional capital in our staff.  Is it about proficiency, how many kids you can get in level 3 and 4, or is it about growth?  I feel that we have a double system going on here.  We worry that we don't have enough students hitting the mark in proficiency scores, but we get growth scores from the state.   I am all for assessing our students, standards, et. al., but I need some clearer understanding, is it about proficiency or is it about growth?  Or both?  Isn't it nerving that schools get growth scores that are 17 or 18 and don't hit the mark of proficiency?  What does it all mean?
Peter DeWitt published in his blog here whether increased accountability works.  He sites Michael Fullan's work and that wrong drivers are driving what is happening in education reform.  I think Fullan is on to something, and below is brief outline  of what he is talking about.
Wrong vs. Right Drivers
Michael Fullan published a document, Choosing the Wrong Drivers for Whole System Reform for a symposium in Australia.  He also published many books such as Professional Capital:  Transforming Teaching in Every School with Andy Hargreaves and the latest, The Principal: Three Keys to Maximizing Impact.  (The links are documents that have been used in presentations or journal submissions about the book(s).  In both books, Fullan and Hargreaves discuss Wrong vs. Right Drivers that impact reform agendas.  They claim that the wrong drivers can be used, but have to be offset by the right drivers.  Unfortunately, in reform agendas in the US, UK and Australia, the wrong drivers are pronounced more than the right drivers.  So, what are the wrong drivers?
Focusing on accountability vs capacity building.  It's about people, not "sticks and carrot."  Develop your people, not punish them with testing. It's not about the test or the standards, it is how they are being used.
Individual Quality vs Group Quality.  This is about developing the entire system, not one teacher here, one teacher there, one leader here, another there.  It kind of ties in with the accountability above.  Work on raising the bar for all and then get in and work together.  This is where PLCs come in and developing high social and human capital.  It is the belief that we are in this together, not competing against each other.  We help each other as a group to be the best.  Move together, grow together, help each other.  Trust building.
Technology vs instruction.  This is the belief technology is not the end all be all, it is about instruction – how will we use technology to enhance instruction.  Technology will never trump good teaching.  It will only enhance it and good teachers know their craft and how to teach.  It is about pedagogy.
Fragmented vs. systemic.  This means to have a systemic approach, attainable and that all drivers, capacity building, group work, and instruction are all working together.
This makes sense to me.  As a leader, I find that I have to balance this because I believe we are heavily balance to wrong drivers than right drivers.  Fullan does state that there are areas that we do need to use wrong drivers, but the gist is that countries such as the US have focused to heavily on them whereas countries who are successful have a balance.
Take the time to read the document, Choosing the Wrong Drivers for Whole System Reform.  I am sure it will open up some thought to how we are leading our schools, our states as well as our country.  In the meantime, maybe I'll take a visit over the boarder sooner than later and visit some Canadian schools to see what is happening.  Heck, maybe Dr. Fullan will help us out in New York!  I hope so!
I thought I had reached the pinnacle of using social media with embracing Twitter, Google+, Google Hangouts, LinkedIn, Facebook, Instagram, you name it as professional development tools and to create a robust PLN. Folks in my PLN from the southern island part kept saying to me, "Vicki, get the Voxer app. It is cool." I got it. I "voxed" back and forth with a few folks. To me, it wasn't much different than the "WhatsApp". You talk and it relays a message to the person who has the app on their phone or who has it in your contact list.
Well, I was blown away this past weekend. I was driving down to New Jersey, stressed, going from one pressure cooker to another. My buddies and sisterhood, Christina Luce and Lisa Meade were coaching me while I vented first through twitter, then moving to Facebook messenger to make the conversation more private, then to Voxer and then to a scheduled Google Hangout because I had to have a sisterly chat! (There's something about 24/7 PLN! What a pick-me-up after a stressful day!)
Christina put out a tweet about joining a Voxer book chat on Eric Sheninger's awesome book, Digital Leadership. I was already enrolled in the #SatChat book chat on Edmodo, but wanted to give the Voxer this a whirl.
Boy, has it been a whirlwind and an AWESOME tool. Allison Petersen set the group up and we have just been chatting, posting, talking, about the book, change process, and everything under the sun. This past Sunday was the kicker. I heard the "bleep bleep" of my phone going off. It was like a wake-up call, calling me out of my slumber and saying, "Come to VOXER and join the conversation, Vicki!" (Yes, you can silence your phone, but why?) Anyway, Brad Curie started it, and then the conversation just flowed. I am not sure if it was because it was the weekend, or if some of us were on the beach, relaxing, (Not me, mind you) but how fun to get a message and not be limited to 140 characters. You can talk and it will record and send it to the folks in the chat!
I was at my nephew's baseball game – bleep-bleep-bleep. Someone posted a picture of text and then used the text feature for their thoughts. Bleep-Bleep- Bleep: Someone recorded a short thought about change leadership. ( I posted a picture of route 81 North because I was driving and jealous of folks on the beach or folks out of school. (We have to go to the end of June in New York.) I did put the phone away, because I was getting strange looks from folks around me at the baseball game.
The most powerful thing I am experiencing is the connections, relationships, and the powerful conversations we are sharing over a free tool, and I even got to "meet" new folks who are passionate about education. It's also the beauty of having a PLN 24/7, from my "New York sisterhood" to the new PLN folks that I have met on Voxer.
If you are new to Voxer, Joe Mazza has a wonderful post about how to use Voxer to create your own podcast here. Get on to Voxer! I guarantee it will rock your world!
It has been a busy few weeks, and this is NOT because of the NYS ELA tests and scoring.   This is a positive blog and about meeting some AWESOME folks.  I am finally getting a chance to sit down and write it.
It all started Monday, March 30th.  I had the opportunity to attend the SAANYS and NYSCATE first Learning Summit, Digital Leadership 101 and Beyond.  Best part, it wasn't FAR for me and my PLN was coming to participate and present.  It was great to see this workshop come to Central New York.  This area as well as the Northern New York near Watertown, St. Lawrence County, is under  represented in digital leadership.
The sessions were great.  My friend Tony Sinanis shared with us how he is branding his school, pushing out the positives and having his kids share the stories of the school.  How powerful is that.  Another takeaway:  "Administrators should NOT create roadblocks."  So true!  Tony has been a connection in my PLN for almost three years or more.  We both agree that social media, especially Twitter, has changed our role as lead learners and has opened up a new world for us!
I love listening to Eric Sheninger,  Eric is a true mentor for all of us and has written the book on Digital Leadership.  There were many takeaways; one being "Don't say "I don't have the time."  Make it happen and make the time to be a connected educator.  It was great to listen to Eric speak and confirm the direction I have chosen to take with digital leadership.
I used the program Storify to document the tweets that were posted during this conference here.
(My AWESOME PLN at Ichiban in Liverpool NY)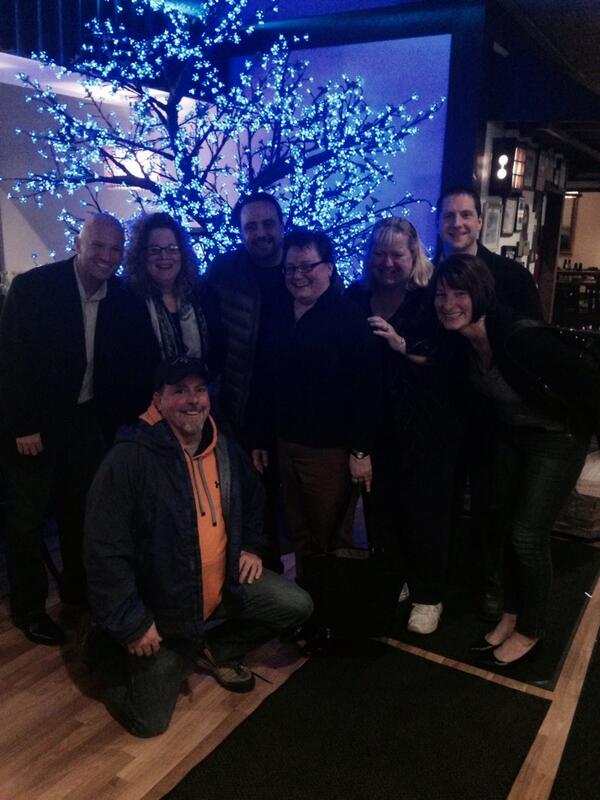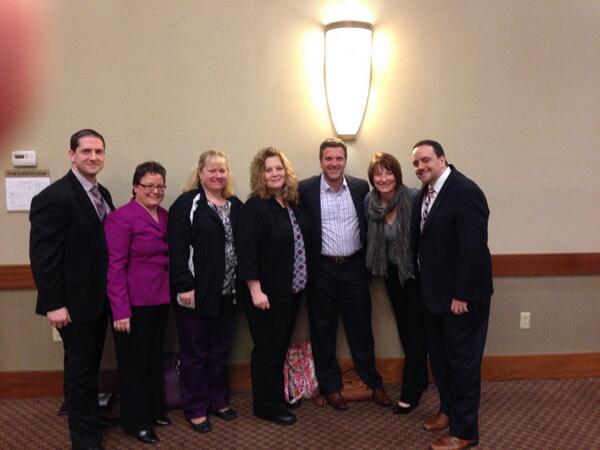 The gang after the Digital Leadership Conference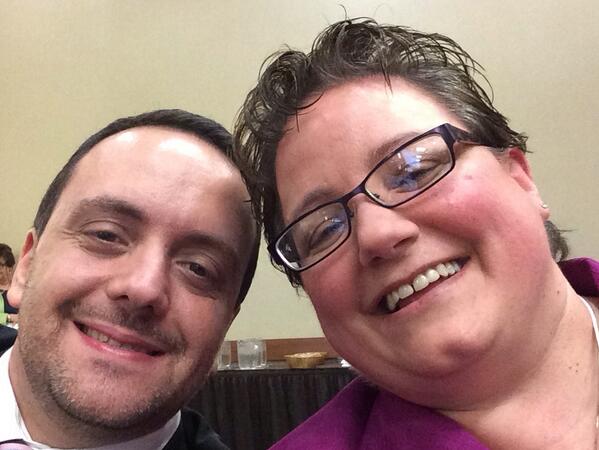 My friend Tony Sinanis and me.
The next night brought an opportunity for me to see and hear the great Dianne Ravitch at Syracuse University.  After the first day of the NYS ELA exam, Dr. Ravitch gave a lecture to us in the crowd of Central New Yorkers and Upstate New Yorkers.  It was everything and more that I believe in.  Dr. Ravitch received a standing ovation even before she spoke – a testament to a truly brave individual who has taken the cause and making it a mission to set the record straight for public education and to make sure that we do what is best for our children.
Here are some take away's:  "Our children take more tests the the bar exam."  Dr. Ravitch asked the crowd if we had fun giving the first day of ELA 3-8 exams in NY State.  "Reformers promote negative, punitive and failed policies that promote the root causes of low test scores"  "Bill Gates supposedly wants fewer teachers to teach more kids. His children go to schools with classrooms with 12-14 students."  "NCLB is a hoax did it leave a child behind?"  "NCLB and its ugly stepsister Race to the Top are not bad ideas…they're hoaxes. So is the Texas Miracle."  
One of the biggest points she touched on is that we, as a nation, have the highest poverty rate with our children in any develop nation.  Why aren't we talking about that?  Really, we are focusing on the wrong thing, data and test scores, and not taking care of our children.  Read The Shriver Report   She gets it and nails the nail on the head.  It's a start.  (We all know education starts in the home!)
We connected educators used the hastage #RavitchSU to document the lecture.  I also used Storify to document the lecture here.
 (Getting Reign of Erro signed by Dr. Ravitch)
Then, to end my whirlwind week of PLN was attending the #CELI14 Saturday conference at Farmingdale Middle School in Long Island, New York.  This would be the first time that our #NYEDChat was to be together.  There are six of us that host the chat every other Monday at 8:3op.m. and the only co-moderator I met face to face was Tony Sinanis.  What a pleasure it was to meet my friends Carol Varsalona, Blanca Duarte, Bill Brennan, Starr Sackstein and to see Tony again.
Dr. Bill Brennan organized this wonderful "un-conference" and it was really a treat to see Long Island educators come out and grown together on a Saturday.  You can follow the tweets by searching #CELI14
This truly was a special week and it is so important to build a strong PLN because in the end, it's about the relationships we foster, whether with adults or our kids, that will make our jobs easier and create a better world for our children.  Enjoy the Spring!
The #NYEDChat mods with Billy Krakower
                     The #NYEDChat moderators at #CELI14
Carol is interviewing Tom Whitby for "NYEDChat
Carol Varsalona and me.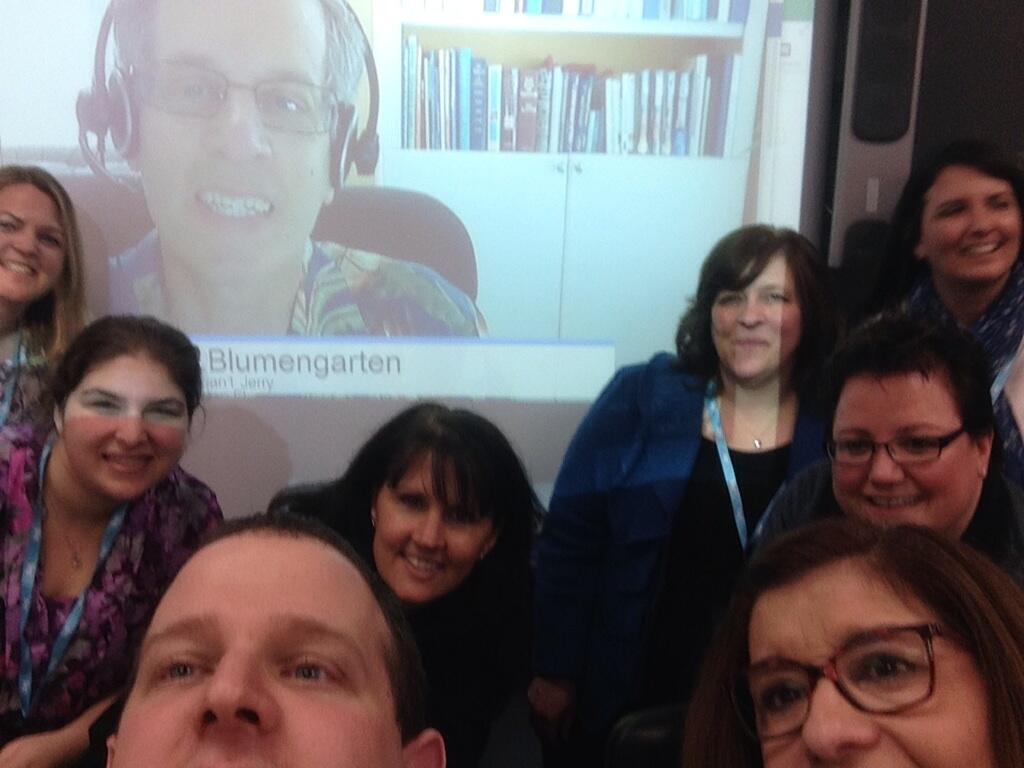 A Google Hang Out with Jerry Blumengarten AKA @cyrbraryman1