Archive for category PLN
It has been a busy few weeks, and this is NOT because of the NYS ELA tests and scoring.   This is a positive blog and about meeting some AWESOME folks.  I am finally getting a chance to sit down and write it.
It all started Monday, March 30th.  I had the opportunity to attend the SAANYS and NYSCATE first Learning Summit, Digital Leadership 101 and Beyond.  Best part, it wasn't FAR for me and my PLN was coming to participate and present.  It was great to see this workshop come to Central New York.  This area as well as the Northern New York near Watertown, St. Lawrence County, is under  represented in digital leadership.
The sessions were great.  My friend Tony Sinanis shared with us how he is branding his school, pushing out the positives and having his kids share the stories of the school.  How powerful is that.  Another takeaway:  "Administrators should NOT create roadblocks."  So true!  Tony has been a connection in my PLN for almost three years or more.  We both agree that social media, especially Twitter, has changed our role as lead learners and has opened up a new world for us!
I love listening to Eric Sheninger,  Eric is a true mentor for all of us and has written the book on Digital Leadership.  There were many takeaways; one being "Don't say "I don't have the time."  Make it happen and make the time to be a connected educator.  It was great to listen to Eric speak and confirm the direction I have chosen to take with digital leadership.
I used the program Storify to document the tweets that were posted during this conference here.
(My AWESOME PLN at Ichiban in Liverpool NY)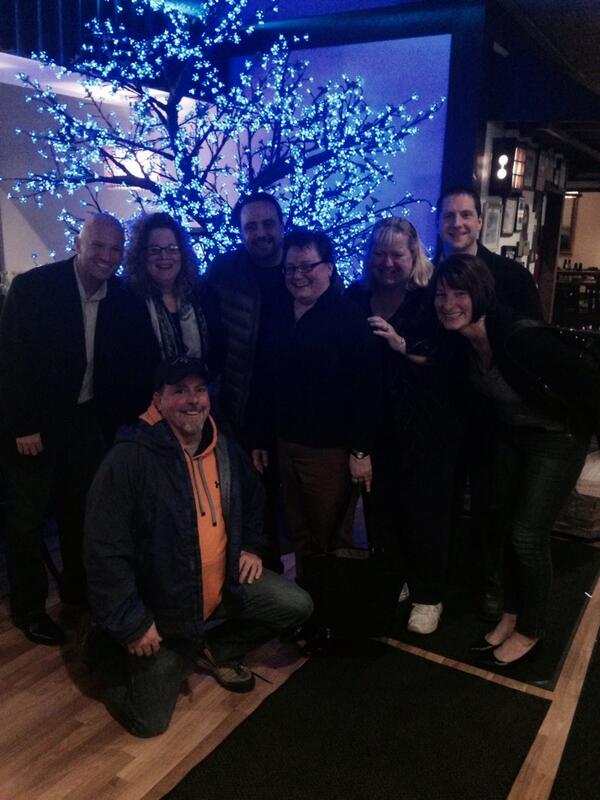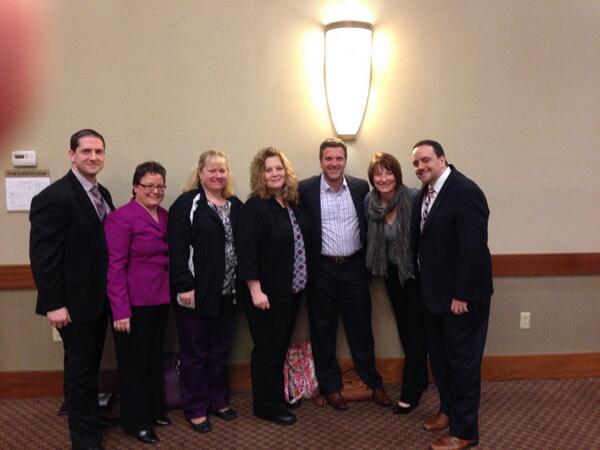 The gang after the Digital Leadership Conference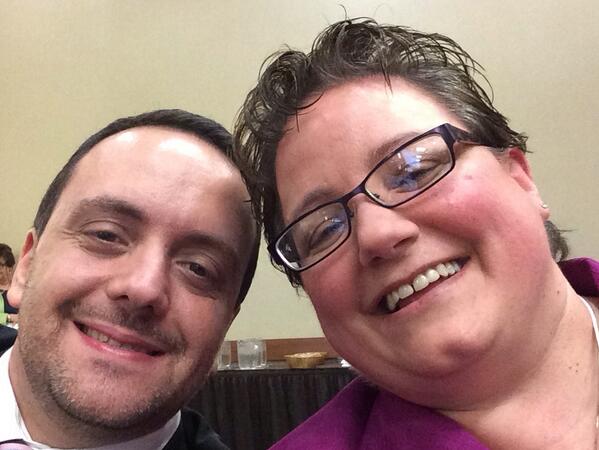 My friend Tony Sinanis and me.
The next night brought an opportunity for me to see and hear the great Dianne Ravitch at Syracuse University.  After the first day of the NYS ELA exam, Dr. Ravitch gave a lecture to us in the crowd of Central New Yorkers and Upstate New Yorkers.  It was everything and more that I believe in.  Dr. Ravitch received a standing ovation even before she spoke – a testament to a truly brave individual who has taken the cause and making it a mission to set the record straight for public education and to make sure that we do what is best for our children.
Here are some take away's:  "Our children take more tests the the bar exam."  Dr. Ravitch asked the crowd if we had fun giving the first day of ELA 3-8 exams in NY State.  "Reformers promote negative, punitive and failed policies that promote the root causes of low test scores"  "Bill Gates supposedly wants fewer teachers to teach more kids. His children go to schools with classrooms with 12-14 students."  "NCLB is a hoax did it leave a child behind?"  "NCLB and its ugly stepsister Race to the Top are not bad ideas…they're hoaxes. So is the Texas Miracle."  
One of the biggest points she touched on is that we, as a nation, have the highest poverty rate with our children in any develop nation.  Why aren't we talking about that?  Really, we are focusing on the wrong thing, data and test scores, and not taking care of our children.  Read The Shriver Report   She gets it and nails the nail on the head.  It's a start.  (We all know education starts in the home!)
We connected educators used the hastage #RavitchSU to document the lecture.  I also used Storify to document the lecture here.
 (Getting Reign of Erro signed by Dr. Ravitch)
Then, to end my whirlwind week of PLN was attending the #CELI14 Saturday conference at Farmingdale Middle School in Long Island, New York.  This would be the first time that our #NYEDChat was to be together.  There are six of us that host the chat every other Monday at 8:3op.m. and the only co-moderator I met face to face was Tony Sinanis.  What a pleasure it was to meet my friends Carol Varsalona, Blanca Duarte, Bill Brennan, Starr Sackstein and to see Tony again.
Dr. Bill Brennan organized this wonderful "un-conference" and it was really a treat to see Long Island educators come out and grown together on a Saturday.  You can follow the tweets by searching #CELI14
This truly was a special week and it is so important to build a strong PLN because in the end, it's about the relationships we foster, whether with adults or our kids, that will make our jobs easier and create a better world for our children.  Enjoy the Spring!
The #NYEDChat mods with Billy Krakower
                     The #NYEDChat moderators at #CELI14
Carol is interviewing Tom Whitby for "NYEDChat
Carol Varsalona and me.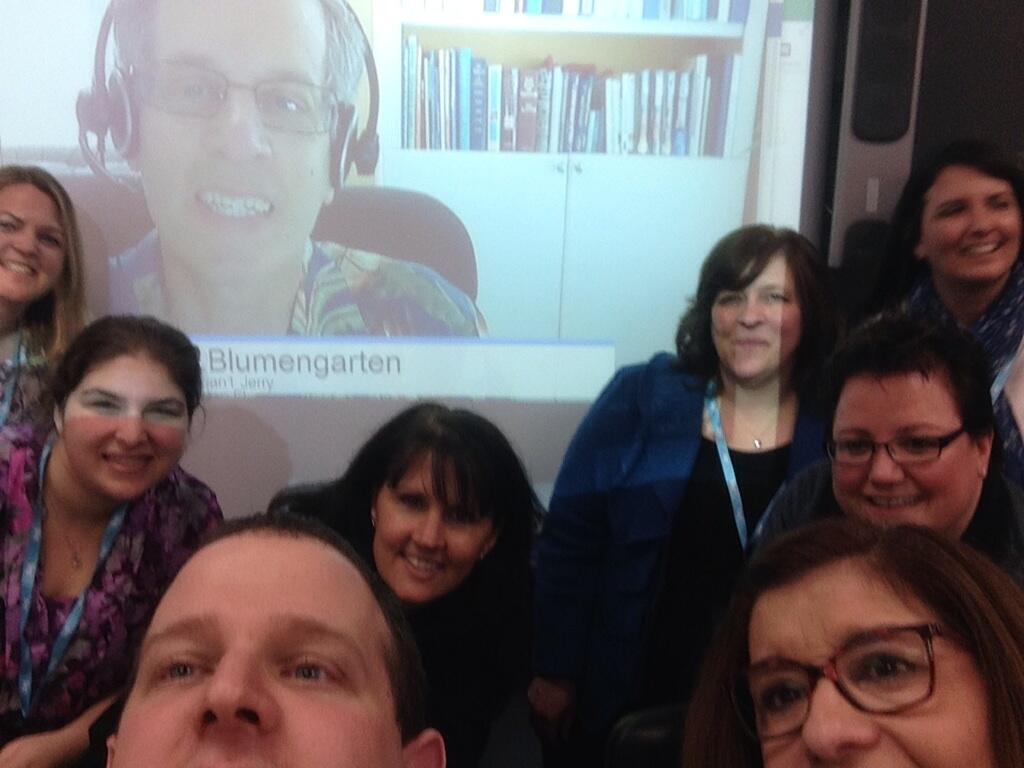 A Google Hang Out with Jerry Blumengarten AKA @cyrbraryman1

There is nothing like twitter peer pressure. My friend and mentor Tony Sinanis pushes me all the time and now, the PLN blog challenge. I think it's like a chain letter type thing, but with a twist. You get to answer some questions, pose some questions and shout out to the bloggers you want to respond to your "chain blog". What a great way to start my day in the Arctic Tundra, so here it goes Tony.


HERE ARE THE RULES OF THE CHALLENGE:
Acknowledge the nominating blogger.
Share 11 random facts about yourself.
Answer the 11 questions the nominating blogger has created for you.
List 11 bloggers. They should be bloggers you believe deserve a little recognition and a little blogging love!
Post 11 questions for the bloggers you nominate to answer and let all the bloggers know they've been nominated. (You cannot nominate the blogger who nominated you.)


11 Random Facts About Me…

1. My first LOVE is music and I am a musician and violinist and I miss being in front of an orchestra, but love being a principal.

2. Fourth year out of breast cancer diagnosis, WOOT, WOOT!!

3. I'm addicted to Twitter and am honored to be a co-moderator of #NYEDChat, the voice of NY Educators!

4. I love to travel!

5. Reading is my pleasure!

6. I make soap – Good clean fun! (And we make wine too!)

7. I have been in the same district for 26 years, first as a music teacher, then as an administrator and loving every minute of it!

8. I love the idea of Edcamp and am excited to be working with a bunch of my Upstate PLN peeps to work on an EdcampUNY offering in 2014 (That is Edcamp Upstate NY!)

9. I am of Albanian descent and went to Albania for the first time two years ago and loved every bit of it. I want to go back!!

10. I spoil my two nephews, Nikolas and Sam and they are wonderful musicians. Can't wait until they open their Christmas presents.

11. Philadelphia PA is my home town and I miss it awful. I love that city and want to move back and out of the Arctic Tundra!


Answers to Tony's Questions…

1) What is your favorite TV show? Downton Abby is up there right now along with reruns of Everybody Loves Raymond
2) What is one app or resource you've learned about on Twitter that has been a game changer for you at work? OMG. EVERNOTE. If you aren't using it, what are you waiting for? HELLO!
3) In one sentence, share your vision for your school or district. East Side School is delivering the promise of a brighter future. (I say it every morning on the announcements!)
4) What does being a connected educator mean to you? It has opened a whole new world, rejuvenated my career, and increased my PLN with like-minded people.
5) What was the most amazing lesson you ever facilitated or observed? I don't have a particular one in mind. I look for engagement when visiting classrooms and when I present, I try to have my people be engaged – lots of sharing, talking, and conversation. Not the "Sage on the stage!"
6) What is one thing about your school or workplace that you are most proud of? Our students! They are the best and I love each and every one of them! Awesome students, parents and staff = Awesome school
7) How has your PLN impacted you? My PLN challenges me EVERY day, just like working on this blog post.
8) What motivates you each day to be an educator? The students and wondering if the Regents Reform Agenda is really the way to go in NYS.
9) What is your favorite device or gadget? Definitely the iPhone. That is my go-to gadget and so mobile. Who would have thought? It's a true game changer!
10) In one sentence explain to a "disconnected" educator why they should consider getting connected! You need to get connected and get on Twitter and get off your isolation island!
11) What makes you happy? Watching my students "get it". Also, seeing my students succeed not only in academics, but in being good citizens.


Answers to Lisa Meade's questions:

1) What is your best "pick me up/cheer up" song?

"I Like To Move It, Move It!"  Love that from Madagascar.


2) What is your favorite movie?  

There are many – Both Love Affair and An Affair to Remember, Hitchock's Dial M for Murder, Rear Window and To Catch a Thief.  Love those movies.


3) If you could change anything about the educational system in your area, what would it be?  

The NYS Regents Reform Agenda!


4) What would you do, in your school, if you were given the funds to do so?

Open a 1-1 initiative program with tech and hire more great teachers!


5) How do you handle the stress and negativity that our jobs sometimes bring?

Always being positive, even with APPR.  Remember, what Todd Whitaker says, "When the principal sneezes, everyone gets a cold."  Be the model of positivity!


6) What person have you most recently met — face to face — after following him/her on twitter?

Chris Casal.  I was tweeting with him at the NYSCATE conference and then found him lurking in the back of an iPad presentation.  Great to meet him – wealth of knowledge and doing great things for kids! Not recent, but at the 2013 NAESP conference, had lunch with Todd Whitaker with Tony Sinanis, Joe Mazza, Kris Mitzner along with Todd's wife, Beth Whitaker.  That will be memorable as well as having lunch with Tony Sinanis, Joe Mazza and Eric Scheninger.  Also memorable and honored to work with Joe Mazza and Tony Sinanis at NAESP 2013 as Social Media Ambassadors! Meeting all the EdcampNJ people was exciting this year too, along with the #Satchat moderators, Scott Rocco, Billy Krakower and Brad Curie.  Also, meeting my NY twitter friends at the SAANYS conference – Peter DeWitt, Lisa Meade, Carol Burris and Patti Siano.  


7) Name one New Year's Resolution for 2014.

To publish and write more on this blog and for publications


8) What book are you reading right now?  Finnish Lessons by

Pasi

 Sahlberg.  The intro by Andy Hargreaves was AWESOME.  Also reading Reign of Error by Diane Ravitch and Michelle Rhee's biography.  Interesting.  (For pleasure, trying to finish Ken Follett's Fall Of Giants.  It's taking me FOREVER!)
9) Tell about one of your proudest moments — in just two sentences.  

Every year, hosting the fifth grade farewell.  I spend 7 years with these kids and it's bittersweet to see them leave for the Middle School.


10) Tell about one of your saddest moments — in just two sentences.  

Going to one of my 2nd grade students' funeral who died in a tragic car accident.  That was tragic and the worst nightmare for anyone – way too young!


11) List three of your best qualities.

Listener, Thinker, and Organizer!
The 11 Bloggers I would like to challenge…


Jessica Johnson


Shira Leibowitz


Kathy Perrett


Rebecca Tharp


Lisa Meade


Peter DeWitt


Tim Dawkins


Christina Luce


Scott Osborne


Darin Jolly


Carol Varsalona


11 Questions for my Blogging Friends…


1. What is your favorite song? List song and artist.

2. What educhat do you recommend to follow. List no more than 3.

3. Share your thoughts on education reform in the USA.

4. What does it mean to be a Lead Learner?

5. What makes you get up in the morning and go to work other than a paycheck?

6. How do you stretch yourself to be the best of the best?

7. How can schools help with poverty in our communities?

8. What should each teacher or administrator know before they start their new job?

9. How do we infuse technology into our school?

10. How do we infuse Social Media into our schools?

11. What is your eduwin of the week?

That was fun. Thanks Tony! Enjoy all and Happy Holiday's!

(With Joe Mazza, Todd Whitaker, Kris Mitzner, Tony Sinanis, Beth Whitaker, Vicki Day)
I have been doing the elementary principal "shtick" for some time now.  (Let's just say I'm an old dog.) Here is what was so invigorating and exciting for me today at the 2013 NAESP Conference.  It was having face to face conversations with my PLN (Professional Learning Network) and meeting superstars such as @Joe_Mazza Tony Sinanis @Cantigue_Lead Eric Sheniger @NMHS_Principal  Justin Baeder @eduleadership and Peter DeWitt @PeterMDeWitt to name a few.  On top off that, meeting so many new folks who were interested not only about how to use twitter for pd, but about good practice.
When you are the only principal in your building and you are going through the mundane routines of discipline and answering that next irate  parent phone call, believe me, it can get old.  Let me tell you, getting on to twitter and using it for professional development, branding your school and just asking for help can be just the shot in the arm you need.
EDUCATORS: Do yourselves a favor.  Open up a twitter account and start following some of us, such as the accounts above.  Go slow and see what we are doing.  Check out the attachments or
links we
attach.  Once you start, believe me, you will be hooked and be ready for Twitter to rock your world.  What are you waiting for? Take charge of your professional growth!  Happy tweeting.