Archive for category Learning Spaces
Our school district is currently in the mist of a large renovation project.  This isn't your normal, "Get new doors and sidewalks" type of project but a, "gut the entire school to the beam structures" kind of project.
There is a vision, a brilliant one, to consolidate our resources and place our elementary student population on one campus, our Middle School population on one campus and our High School population on yet another campus, making a total of 3 campuses.  And now construction started on the elementary school and boy is it being gutted!
As we moved classrooms and redistributed our student population so we can still conduct school, little did we know that our elementary playground would be dismantled due to gas and electric lines running under the playground and detouring them to the building!  Oh, the horrors for our UPK-2 kiddos!  No playground to play on!
Ah, but here is the best part.  Since there isn't a playground, our kids are now forced to use their imagination!  Out come the kickballs, the bouncy balls, the footballs and hula-hoops.  Sidewalk chalk is used to draw on the pavement and group games are being incorporated.  But no playground equipment you say?  Yep, it has been a blessing in disguise!  Now, kids are being taught how to play creatively and purposefully. Maybe we should do away with the playground?  Oh no,  did I just write that????  Oh, what joy, wonder and imagination, our students  will encounter!  I love it!

(Looking down one of the wings in our school during renovations.  Looks like a warehouse.  Who would have thought!)
On April 21, 2014,  I had the opportunity to attend a wonderful conference at the Poughkeepsie Day School, From STEM to STEAM.  It must have been via some tweet either by Pam Moran or Josie Holford that they told me about the workshop and that I had to go.  Sure, why not.  I was ending my vacation so I swung by via Philadelphia, visited family in New Jersey, and up to 287 to 87.
Boy, was I in for a treat.  I have been in contact with Pam Moran through twitter and Pam is so passionate about sharing what her district is doing in Albemarle County, Virginia.    Pam and one of Albemarle principals, Alison Dwier-Selden, of the Walton Middle School lead the keynote for the day and boy, were there some great takeaways!  Their keynote was based on the following:
The Seven Pathways to Learning
Maker-Infused Curriculum
Interactive Technologies
Instructional Tolerance
Choice and Comfort
Connectivity

Universal

Design for Learning
Passion/Problem/Project-Based Learning
The keynote was about putting passion back into our schools.  What fun to sit a listen to such positivity a week before the NY State Math exams! A question Pam posed:  "How do maker leaders create opportunities for authentic leadership and agency to emerge among educators and learners?  It is a basis of inquiry for me as we move forward.
Another: "Influence comes from many not from a single leader or the hierarchy.  How true is that!  Michael Fullan embraces this idea to build professional capacity in our schools.  Why not include kids?  Embrace and build the trust!  Maker leaders are not in to compliance.  This is old school and 20th century thinking.
Here is what Maker Leaders do:
Hierarchical flattening
Pedagogical entrepreneurship
Boundary spanning
Global networking
Policies which enable rapid change, rapid prototyping,

not block

either!
Pam shared some stories about how they created spaces at Albemarle to be 21st century in a library.  They got rid of the outdated storage VCR tapes, old overheads, things that were collecting dust in a storage room and the librarian ripped the walls down and opened the space up to be used as an area where kids can use to hang and use their device.
(Old School)
She spruced up the area and added this to the library: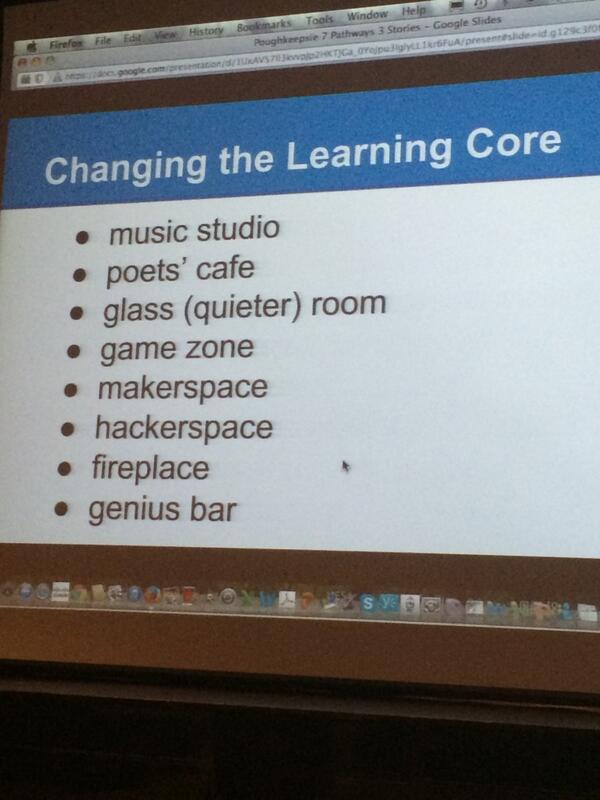 Disrupt your library space, change the marketplace, capture a new audience.  How exciting for kids!
To end, Pam and Alison told us to get 1 or 2 brave folks to take the step just do it.  "Pioneers take the arrows, settlers get the land."  Be brave enough to try something new in our schools, especially in the land of APPR and CCSS.
We had great workshops offered throughout the day as you can see here and I used Storify to document the day here.
We got to see some cool things and learn together:
I want one of these :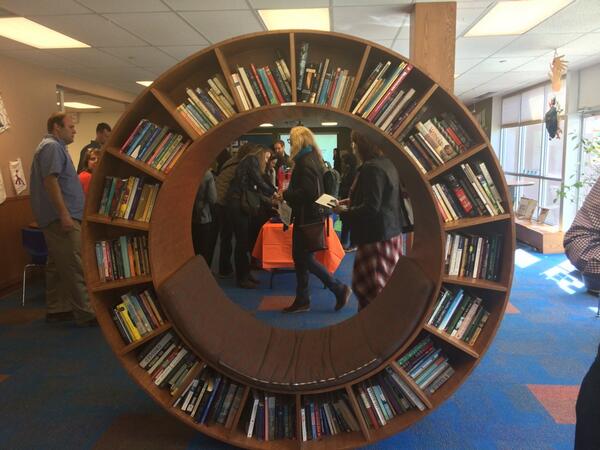 We made speakers out of paper.  Me, I burned my fingers.  (Don't laugh, but it's true.)
The best was meeting folks around the area and creating more connections to my PLN.  I also got to meet Maureen Devlin.  Maureen and I are regulars on #satchat and how wonderful to meet face to face!
We gathered back to close the day and Pam asked us to think about bringing one thing back to our schools to start to change or implement.  I have been pushing my staff to move to project based learning (PBL) and have written about it to them here.  We slowly setting the stage and push for more of this in communication here.
I have to thank Pam and Josie for such an enlightening day.  It has jump-started and rejuvenated my belief that there is a better way!  Thank you!