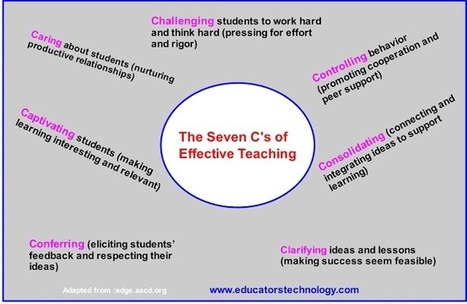 I am going back in time here, to the 2006 ASCD Conference on Teaching and Learning.  I think it was in Orlando, Florida.  Kay Toliver was th keynote speaker, and what she said has resonated with me for years.  Here are my notes:
7 C's:  Principles of Effective Teaching
Kay Toliver
Caring:  The foundation of good teaching.  Students will do their best when they have a teacher who really cares about them.
Connecting to Students:  Establishing positive relationships with students.  Respect their diversity and learn where they come from.
Communication:  Have to be able to communicate positive messages to students.  Never underestimate what children know.  It is our job to tap into what they know, they have prior knowledge.  Words can be hateful.  Also, non-verbal action can be even worse.  Let children know that "I believe."  Know your information and content to be able to communicate to teach.  Powerful teachers know how children learn.  You better know how to teach.  When you communicate to kind you're interactive, not passive.  Children need to understand the literacy.  It is our job to make them understand.  I they can hold it in their hand; they can hold it in their mind.  If they can hold in their mind, they can write it down.  If they can write it down, they can talk about it
Compassion:  When you have compassion, you can get to know your students.  Teachers, we are all servants of children.
Courage:  Have to be courageous and be a risk taker.  Step out of the box.  Be crazy, you want to hear that you are crazy.  You want to have courageous students.  We don't want to have students who are fearful.  Have the courage to open the doors to education for children.  Be a little different.
Conviction:  Faith, blind faith.  Faith in student's ability to do the best.  Have to believe they are doing their best.  We have to expect mastery, we can't settle for anything less.  We need to build upon student success.  If you believe they can't achieve, they won't.
Commitment:  You have to be committed to this job.  Commitment to be a powerful teacher.  When children didn't get it, don't blame them. The bottom line they come to school to learn.  All children come to school with big dreams.  Something happens along the way.  Never give up.  Never let students give up on themselves.
Use this as a reminder, daily, every day, when you work with children!